UP Ration Card List 2019 for BPL/APL check your name, UP Rashan card List, UP Rasan Card Suchi download, राशन कार्ड सूची 2019 में आप का नाम देखें all these are the terms people of Uttar Pradesh are searching online to get their Ration Card Status and Ration Card details online.
That's why we have provided the full list of UP ration Card 2019 holder here.
Department of food and logistics powered by the government of Uttar Pradesh has released the full list of UP Ration Card eligible under NFSA. It is also called grain distribution under NFSA.
The applicant applied for UP ration card can check their name in the new UP ration card list released in 2019.
In this article, we have also provided details on how to check your name in the UP Ration Card list? If you have applied previously.
UP Ration Card List 2019 – UP Rashan Card List – यूपी राशन कार्ड लिस्ट 2019
You can check NFSA eligibility list form the Department of Food and Logistics, Uttar Pradesh online portal. We have specified and described the whole procedure of checking NFSA eligibility below.
Yet, here is some important links which can help you download Ration/Rashan Card list for the new Ration cardholder and the official website.
UP Ration Card List 2019 Name Search Process
राशन कार्ड सूची 2019 / यूपी एपीएल बीपीएल सूची 2019 में आपका नाम देखें
You can search your name in the new UP ration card list by following this procedure. Through this process, you can also be able to check your NFSA Eligibility and avail the benefits for the same as well.
Follow the below steps to check your name/ अपना नाम जाँचने के लिए नीचे दिए गए चरणों का पालन करें
Open the Official Website of Ration Card department
This is the primary step. Follow the link given in the above table to open the online portal of ration card also called Department of Food and Logistics.
Find NFSA Link at the Homepage (होमपेज पर NFSA लिंक का पता लगाएं)
Now, find the "NFSA eligibility list" from the homepage. Follow the below screenshot to get that particular link of Ration Card eligibility.
Select your right district (अपने सही जिले का चयन करें)
ON Opening the above link, A list of districts form Uttar Pradesh (UP) will appear on next page as shown n picture below. Here you have to select your own district and click on the respective link of your district to open it in a separate page.
Select your respective area/town (अपना संबंधित क्षेत्र / शहर चुनें)
After selecting the district, you need to select the respective town or area you are living in or in other words where your residence is. On the NFSA website, there is a separate list for rural and urban areas. Follow the picture to know it properly. We have taken Ballia as a district in the picture for your reference.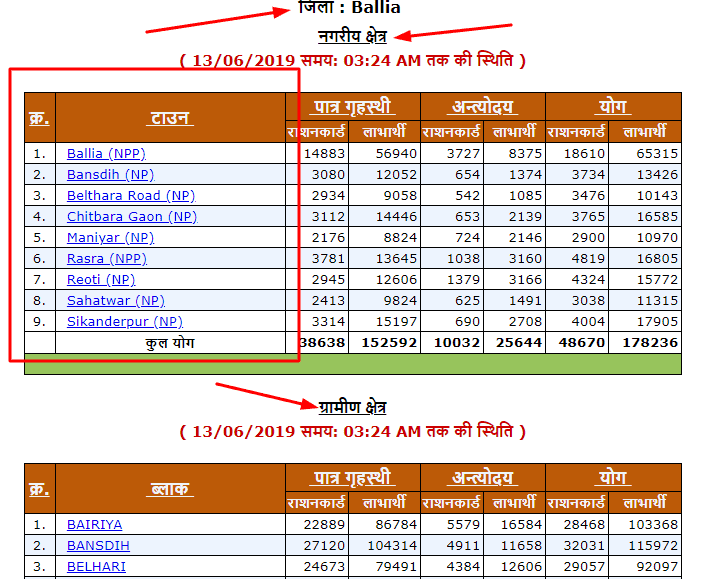 Selecting the distributor name (सही दुकानदार या वितरक का चयन करें)
In the next step, you have to select the distributor name. In other words, select the right shopkeeper. After selecting, you have to choose the type of ration card like as Antodya/Eligible Household and select the respective category also. Follow the picture below –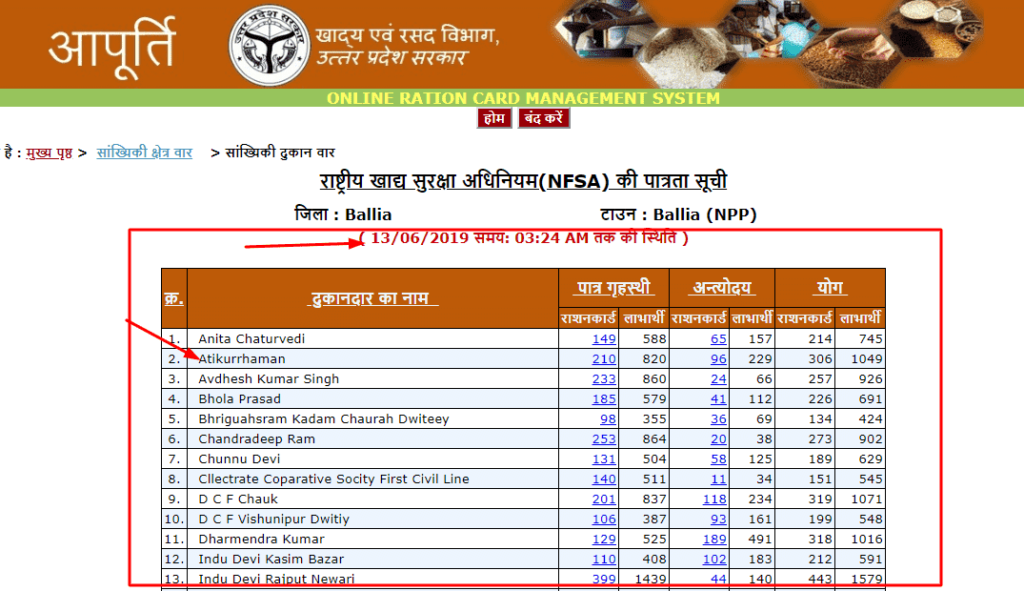 Search and click on your name (सर्च करें और अपने नाम पर क्लिक करें)
After the selection of the distributor, the list of all the ration card holder under that distributor or shopkeeper will appear on the screen.
Here you can verify whether your name is in the list of or not. If your name is there in the UP ration card list then these particular details will be shown to you –
Your Ration Card number
Other basic details
Your name in the UP ration card list 2019 is also a confirmation of NFSA ration eligibility. If you want to have a look at the other details of yours then click on "Digitized ration card Number" to proceed. Follow the image for the same.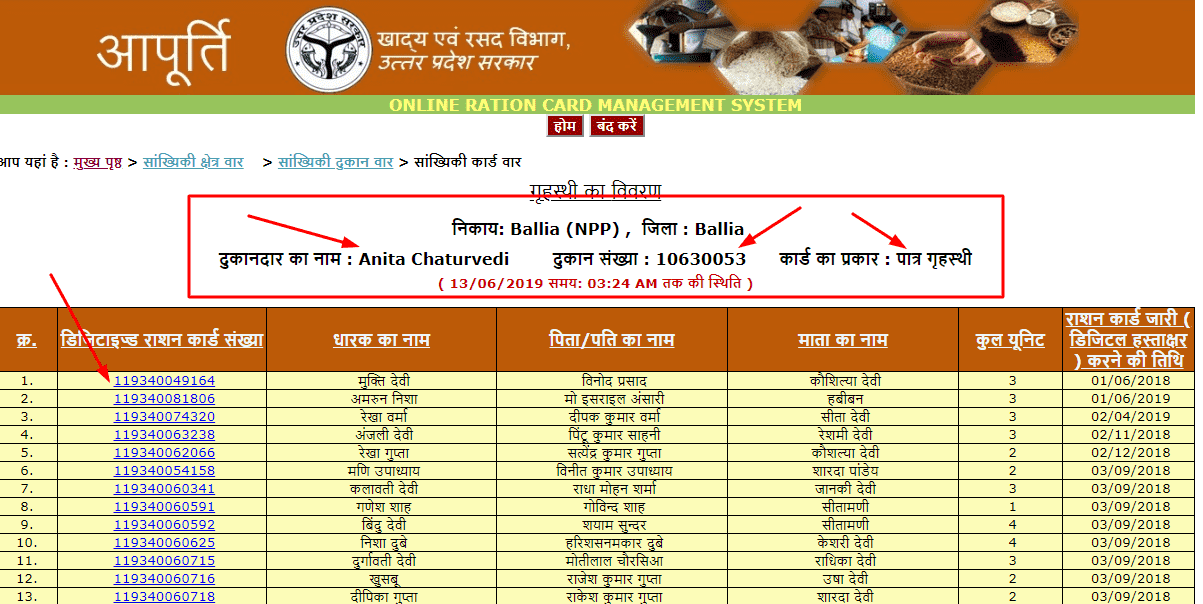 Checking the personal details of Ration Card (राशन कार्ड के व्यक्तिगत विवरण की जाँच करना)
After clicking on the digitized ration card number, You will get the complete information of your UP ration card. verify the same for any misunderstandings.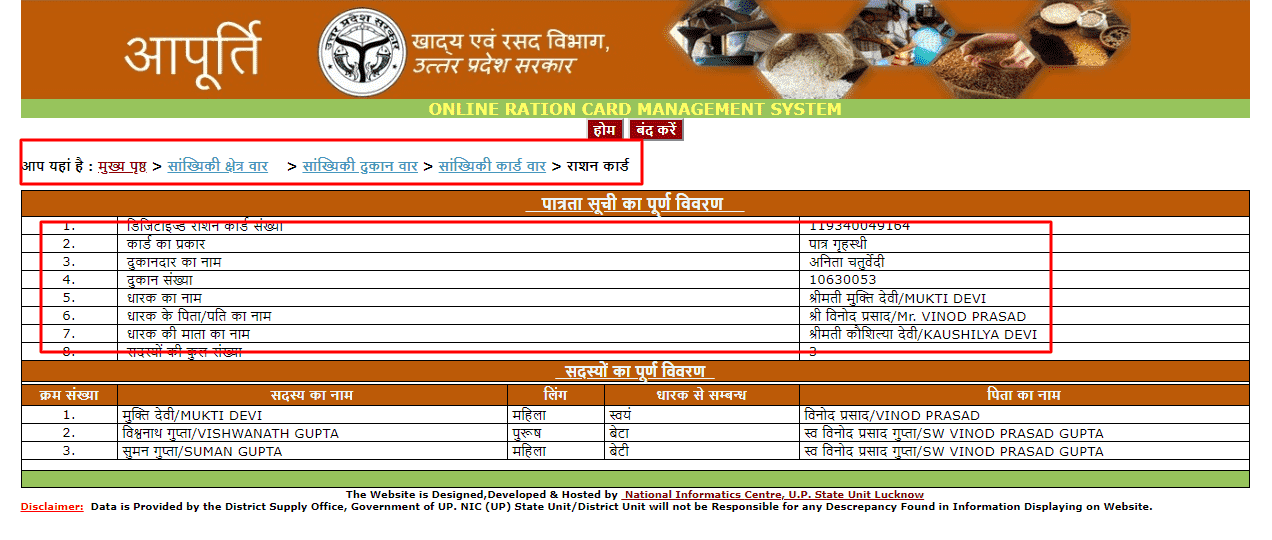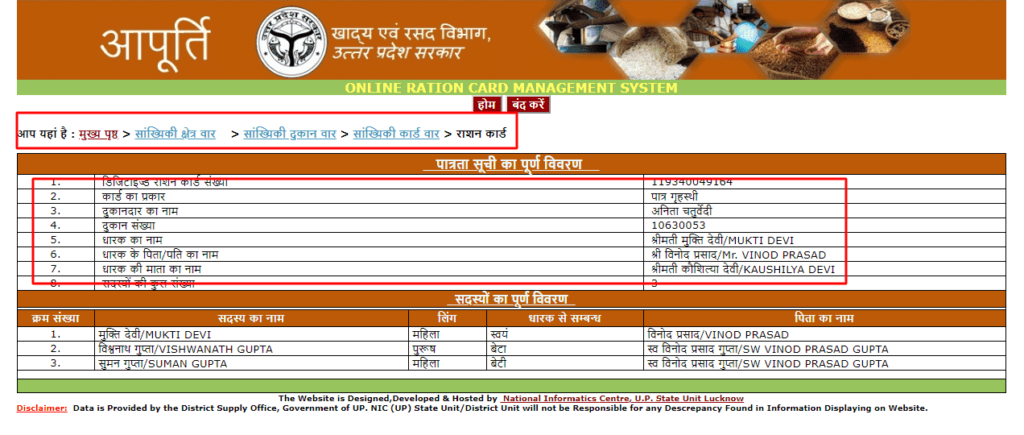 Details in digitized ration card –
A digitized ration card contains the following details. Refer to the image given above to verify the same.
Digitized ration card Number ( डिजिटाइज्ड राशन कार्ड संख्या )
Type of ration Card ( कार्ड का प्रकार )
Name of the shopkeeper ( दुकानदार का नाम )
Shop Number of the distributor or shopkeeper ( दुकान संख्या )
Ration Card Holder name (धारक का नाम)
Ration card holder's father/husband name ( धारक के पिता/पति का नाम )
Mother's name of ration card holder ( धारक की माता का नाम )
No of people holding the ration card ( सदस्यों की कुल संख्या )
You can also find the name and details of people holding ration card in your family including name, gender, relation with the holder and father's name.
Saving and printing your Ration Card
You are free to take a screenshot, take a picture or print the ration card details. have it with you for any future references. To print this on your computer press control + p, you must have a printer linked with your computer. Otherwise, take help from your friend or any cyber cafe.
We can also help you with this procedure. Get in touch with us on WhatsApp +91 6201083671 or Call us on the same.
This is how you can check whether your name is there in the UP ration card list 2019 or not.
Searching name in UP ration card list using details (विवरण का उपयोग करके यूपी राशन कार्ड सूची में नाम खोजना)
If you already have the details of your Ration card then you can directly search your name using that information. Follow the steps provided below with pictures to do the to check your name in the UP ration card list.
1. Open the official link – Click here to open
2. There are two ways to find out your name in the NFSA list. One by using Ration card number and another by entering other details. The second method can be used when you forgot your Ration Card number.

Using Ration Card Number (राशन कार्ड नंबर का उपयोग करके)
If you are searching with Ration Card number then for this you have to enter your ration card number and captcha. After filling these, just click on search button to retrieve your info from UP ration card list.


Using ration card details/personal details (राशन कार्ड विवरण / व्यक्तिगत विवरण का उपयोग करके )
If you don't know your Rashan Number then you can search your listing in UP Rashan card details by entering your other details.
Here you have to enter all the details such as the District, Area, Ration Card type, name, ration card no. etc. in the provided field. It is compulsory to fill All the fields with (*) mandatory mark. You must ensure that you enter ration no. and other details correctly.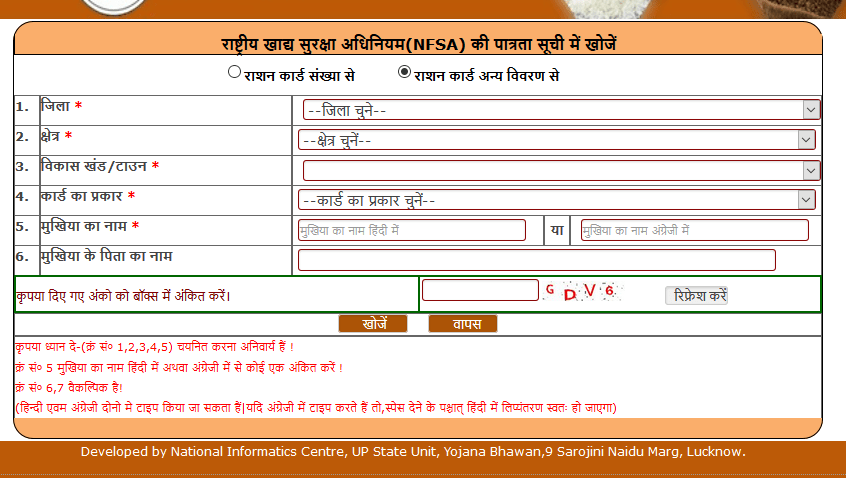 If you fill all the details correctly then your information will be displayed on the screen. This is how a ration card holder name can be retrieved form UP ration card list 2019.
Ration Card/Rashan Card/राशन कार्ड – Frequently Asked Questions
What are the documents required for applying for a ration card?
The list of documents needs to apply for a ration card is given below. If you have not applied previously then you can do this. Before applying for a Ration card, make sure your name is not in the UP ration card list 2019. Carry these documents along with you when you go for Rashan card application process
Bank Passbook
2 Passport sized photograph
Income certificate
Gas connection bill
Electricity bills
Caste certificate
Do the list of fresh ration card eligible candidates in Uttar Pradesh released?
Yes, Under NFSA scheme, Up Government has released the list of eligible people for getting a ration card and it's facilities. People will have either Antodaya Ann Yojana ration cards and Eligible household card for Above Poverty Line and Below Poverty Line both.
Subsidized rate grains will be provided from the listed shopkeeper shops on a regular basis for the people having a ration card.
Where to contact if your name is not in the UP ration card list?
For any grievance or complaint related to your Rashan Card, you can contact your ration distribution/shopkeeper, regional officer.
Provided below is the toll-free numbers for ration card grievances.
1. 1800 1800 150
2. 1800 1800 1967
We hope now you have understood the complete procedure of checking name in UP ration card list 2019 through the official website. We have also provided the alternate way to check names for NFSA eligibility if you have Rashan Card details or number.
Yet, if you have query or concern. feel free to comment below. (फिर भी, यदि आपके पास प्रश्न या चिंता है। नीचे टिप्पणी करने के लिए स्वतंत्र महसूस करें।)
Thanks for reading.
Have a good day.
Read Next – Mutual Consent Divorce Petition
इस प्रक्रिया में हम आपकी मदद भी कर सकते हैं। Comment yopur questions below.
Read More about Ration Card Here –