Do you want to change the driving license address online in India and the USA? We have described the full process to change the address on driving license in this article. Documents needed to change driving license address online and offline are also given below.
Have a look and follow the entire process of changing the address on a driving license. If you find any problem in that feel free to leave a comment below. We have also provided Name change affidavit format in PDF and Process to change the name after marriage at our website.
Why a driving license is necessary?
A driving license is a government-issued license which certifies that an individual is able to operate a vehicle (Bus, truck, Jeep, Bike and others). So, if you want to drive a vehicle freely on road without any restrictions by traffic police, you must hold your driving license.
Otherwise, you may have to pay a fine and sometimes you may need to take the fresh air of Jail 🙂 also.
How to Change Driving License Address?
Sometimes, it happens that you change your permanent address. It can happen with anyone. Basically after marriage you change your name and address both. In such scenarios your driving license must have the original residence address.
For this, you need to change the address on your driving license. Here is the complete procedure of address change in the driving license.
Step 1 – Getting Clearance Certificate and No Objection Certificate from the Regional Transport Office
The very first thing which you need to do is getting a CC (Clearance Certificate) and NOC (No Objection Certificate) from the RTO (Regional Transport Office). The RTO should be the same form where the original driving license was issued earlier.
If you have changed your residence state then NOC will be mandatory to change driving license address and only Clearance certificate will be enough if you have changed the town or city and residing in the same state.
So, I am hoping that you have got the mentioned certificates and ready to write an application to the new RTO for driving license address change.
Step 2 – Writing an application to the new RTO
Secondly, on an A4 size plain paper write an application to the RTO mentioning the address change on the driving license. All the documents needed with this is mentioned below.
Step 3 – Documents needed for Driving license address change
You must have a passport sized photograph, one of the below-mentioned address proof, Clearance Certificate, No Objection Certificate with the application attached to process your address change request in the driving license.
These documents can be considered as proof of new address –
Aadhar Card with the changed address
Election Identity card (Voter ID)
Ration Card
Life Insurance Policy
Passport
Self-attested certificate of age and address with confirmation from an Executive Magistrate or First Class Judicial Magistrate
In case the individual is a foreigner, a certificate of address and attestation of addresses in India
Utility Bills like Water Bill and Electricity Bill
Step 4 – Visiting the RTO office
After having all document and application in hand you should visit the nearest RTO office. Meet the officials at Driving license section or the person who is performing these duties. Submit your application and all documents to them.
You have to pay a fee of RS. 20 for changing the address and Rs 200 for getting a Smart Card.
Once you complete the above process, you should be called for photo and biometric like iris and finger scanning. You might have seen this a lot of times in India these days. For example when you apply for Aadhar card.
Lastly, an acknowledgement receipt will be provided to you with some future date or reference.
If you are going for change driving license address for the same state then the new driving license will be delivered at your doorstep within 10 days max. But, if your current address is in the new state then it might take 30 to 60 days to verify the same.
The new RTO will send your application to the old RTO asking for some confirmation and clearance about your records. Sometimes the police also get involved in this. That's why this process is time-consuming for a new state address change in the driving license.
I hope now you have the clear idea of how can you change the address on driving license? Still, if you have any query on suggestions then feel free to leave a comment below.
Change driving license address online in India
If you are looking for an online website and services who perform driving license address change process online then you can visit this site. It provides almost all the services related to the driving license.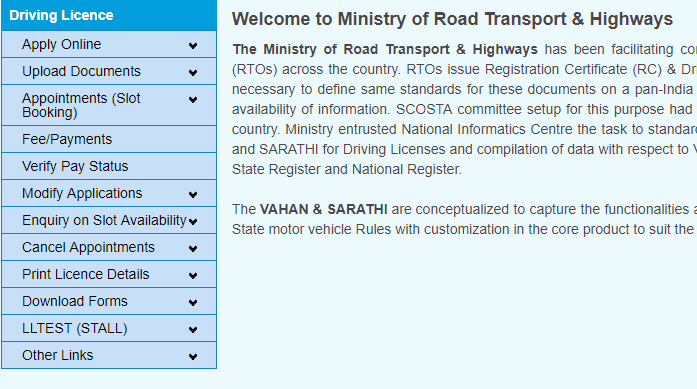 But this website takes Rs. 400 as a charge and you also have wait for a longer period. So, I will suggest you to visit RTO self with the relevant document.
Following are the stages for Application Submission in Services On Driving Licence on the website –
Fill Applicant/Request Details
Upload Documents (if required)
Upload Photo and Signature if required (applicable only in certain states
DL Test Slot Booking -required only for Additional Endorsement of DL(AEDL)
Payment of Fee
Change driving license address online in the USA
In the USA, if you need to change the address of your driving license then you can do it online or you can go to your local DMV and request a change of information. You may need to write an application, produce required documents and pay an eligible fee. That's all.
For changing the driving license address online in USA, just go to your states "website" and go to the driving license link. Fill out all the necessary details and upload the required documents. One done, pay the required processing fee and wait for the changes. It is pretty straight forward.
Legal formats Provided by Legal Help Club
Thanks for reading this post
Have a Good day!