Ration Card Haryana | Food Security Card Haryana| Ration Card Haryana Apply Online | Ration Card BPL List 2019-20 | Ration Card Status Check, and eligibility all these Ration Cards Haryana's topics have been covered here.
Let's have a look at them one by one.
Ration Card Haryana
Ration Card is a government-provided legal document which can be used multi-purposely. One of the major benefits of having a Ration Card in Haryana is you can avail the facility of subsidized rate food commodities, fuels, and grains from the Haryana Government.
A ration card can also be used for a reference document while you are applying for a domicile certificate or income certificate in various states of India.
The Department of Food and Civil Supplies issues ration card for the residence in Haryana. In this article, we look at the procedures for obtaining a ration card in Haryana.
Ration card digitization is ongoing in India. We already have shared these states Ration card complete process on our website.
Reasons for Obtaining a Ration Card in Haryana
Ration card is a privilege given for citizens who have low margin income and are unable to afford the prices for essential commodities like food, oil, etc. Ration card is also used as an identity and address proof for availing government schemes.
These are some important benefits which motivate people to get and apply for Ration Card in Haryana.
1. It can be used as proof of residence while selling or buying a land/ property.
2. It is also required to claim a loan from the banks.
3. Ration card helps as an identity proof for the citizens.
4. To avail government services at a subsidized rate for the eligible beneficiaries food frains, edible oils and fuels
5. Ration Card supports as an identification proof for your entire family since it contains details about the number of family members, income levels, number of children, gender, photographs, etc.
Types of Ration Cards in Haryana
These types of Ration Cards are applicable and available in Haryana –
1.APL Ration Card Haryana – It's a green-colored Ration Card and given to those families coming above the poverty level.
If you hold an APL Ration Card then you are not authorized for getting subsidized rates on governmentally provided food commodities.
2. Other Priority Households Haryana – It's a khaki-colored Ration card. Families having an annual income of less than Rs. 150,000 comes under this category of Ration Card in Haryana.
3. Antyodaya Anna Yojana (AAY) Cards Haryana: It's a pink-colored Ration Card. This type of ration card is issued to the economically weakest section of the societies. Landless laborers, marginal farmers, artisans, craft men, widows, terminally ill persons, etc. are covered under this scheme. They can easily avail the subsidized rates of food in Jharkhand.
Ration Card
Beneficiaries
Subsidy on foods and commodities
Green ration card
Above the poverty line (APL)
5 kg of wheat
Khaki ration card
Other Priority Households (OPH)
5kg wheat
Yellow ration card
State Below Poverty Line (SBPL) or
Central Below Poverty Line(CBPL)
· 2kg sugar at Rs.13.50 per kg
· 7litre kerosene at Rs.13.63 per liter
· 2.5kg pulses at Rs.20 per kg
Pink ration card
Antoyadya Anna Yojana
(AAY) beneficiaries
· 35kg wheat at Rs.2 per kg
· 2kg sugar at Rs.13.50 per kg
· 7liter kerosene at Rs.13.63 per litre
· 2.5kg pulses at Rs.20 per kg
Ration Card Haryana Eligibility Criteria
To check whether you are eligible or not for the Ration Card in Haryana then have a look at the eligibility criteria provided below.
You should be a permanent citizen of Haryana
You must qualify the income criteria for APL & BPL
The applicant must not be the possession of a Haryana Ration Card
Keep you Income certificate ready to show you APL/BPL status
If you are a newly married couple in Haryana you can apply for a new ration card. In this instance, Surrender certificate is required from the previous place of residence, issued by the District and Block level Supply officer.
If you have a new family member i.e birth of a child then you can apply for Ration Card for the newly born member. It is like adding a new name in the old list.
Documents Required for Ration Card Application in Haryana
Here is the list of documents to get a new ration card in Haryana or for Ration Card Haryana online apply –
Address Proof – Aadhar Card, Residential certificate, Water, Electricity or Telephone Bill
If on rent – Rent Receipt
In case of transferring from one Town or Gram Panchayat to another – Surrender Certificate
In case of transferring from one Town or Gram Panchayat to another – Ration Card of the previous residence
For Govt/Semi Govt Personnel – Certificate of residence address and number of members by Institutional Head
For people working in Registered Industrial Institutions –Residence certificate and number of members by Institutional Head or Reporting Officer
For students in Urban Area – Certificate for taking education and residential address by Institutional Head
2 passport-sized photograph of Family Head
Income Certificate and in some cases PAN Card is also required
Ration Card Haryana Online Apply 2019-20
To get a new Ration Card in Haryana follow the process given below.
Step 1: The applicant has to log in at the official website http://saralharyana.gov.in/ of Haryana.
Step 2: Click on apply for service on the left bar of the screen.
Step 3: Select the service "Issuance of new ration card" .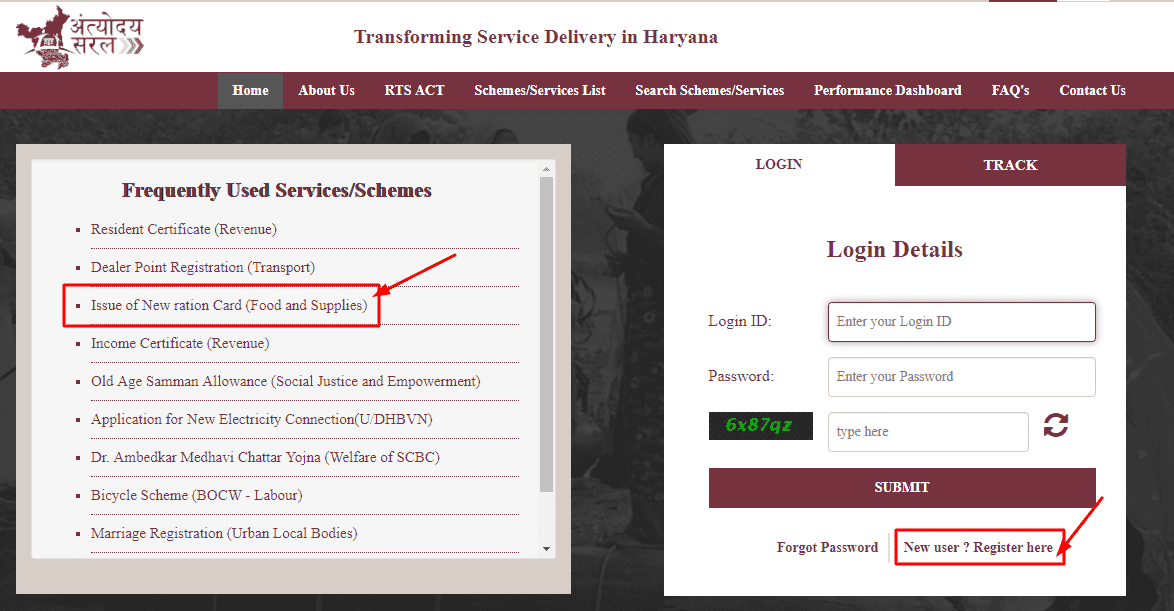 Step 4: Fill the required details mentioned in the form and attach the scanned documents. The list of documents required is given above.
Step 5: Finally click on the "submit" button to submit your application.
Note: Acknowledgement form will be displayed with your Application Reference Number and SARAL ID to check your application status.
Your Ration Card application status can be tracked using the acknowledgment number or SARAl ID you have received after filling the Ration card application form.
Ration Card Haryana Status Check Online
After applying for the ration card, you need to check the status of your Ration card. To do this in Haryana follow the step provided below.
Step 1: Open the official website and navigate to Track Section. Follow the image given below for your reference
Step 2:  Choose Department as "Food and Supplies Department", and then from Service choose "Issuance of new Ration card"
Step 3: Enter the application number, SARAL Id or Reference number and click on "Check Status" button.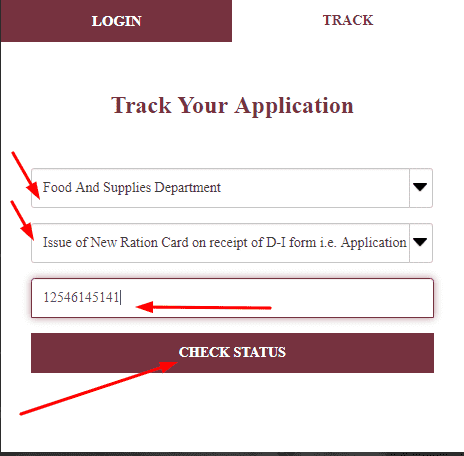 The latest status of your new ration card in Haryana will be displayed to you on another screen. Verify the details and Go for the changes if needed.
The applicants can easily check their name, download/print the Ration Card to avail the benefits of subsidized food at nearby Rashan Shops.
Once the ration card status is approved then the ration card will be issued in 15 days from the date of application.
Ration Card Haryana offline Application Process
Follow the below mentioned to apply for the ration card through offline mode.
Step 1: The applicant must visit the District food and supplies controller office.
Step 2: Fill the application form correctly with your basic details such as name, address, mobile number, etc.
Download the Ration Card Form from the link given below.
After filling, attach the required document and then Submit it at Ration Card office and take the acknowledgment slip to check your ration card status online through the official website.
Benefits of Having a Ration Card in Haryana
If you hold a Ration Card in Haryana then you can easily avail these awesome facilities –
Food Products at Cheap rate like Sugar
Grains at low cost like Rice and Wheat
Kerosene at a subsidized rate
Edible oil at affordable cost
Low-cost LPG
You can also use your Ration Card as a proof of identification while applying for Domicile Certificate or Voter ID card.
Haryana Ration Card – Important Links
Have a look at other State Ration Card Details
Conclusion – Ration Card Haryana Online apply and Status Check
Friends, what do you feel about the information we have provided on these amazing stuff –
Ration Card Haryana Online Apply
Ration Card Haryana Eligibility
Benefits of having a Ration card in Haryana
Check Ration Card Haryana Status online
If you are applying for a Ration card in Haryana and facing any difficulty then do comment below. We will answer your queries for sure.
Don't forget to give us a five star below.
Thanks for reading this post
Have a good day!